New AIR trays® prevents root circling
With the new patent pending Air Tray® assortment for jumbo-sized paper pots, growers can now put an end to root circling and reduce root defects in their production. With focus on the optimization of airflow and drainage, the Air Tray® is a superior alternative to any other containerised system for cultures that needs larger cells.


Following successful customer trials, the integrated propagation system supplier, Ellepot, has introduced a new assortment of unique propagation trays for their bigger sized paper pots. The global launch of Air Trays® are aimed towards growers producing fruit trees, nuts and landscape shrubs and trees in large containers from Ø50 - Ø120 mm.
Ellepot has developed the new tray programme in close collaboration with its long-term partner in North America, Blackmore Company. Blackmore's extensive industry expertise within thermoformed trays, and experience of working with bigger sized Ellepots, has been crucial to develop multiple optimizing benefits for the new trays.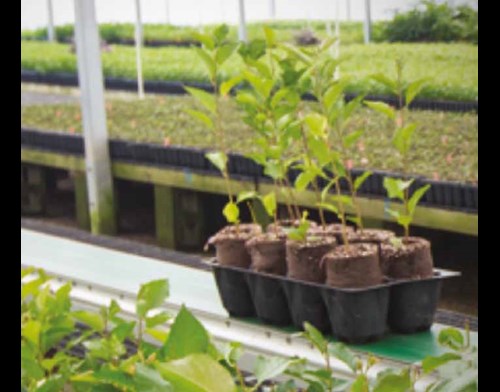 Prevents girdling / circling roots
Optimal Root pruning
Reduces root defects
Promotes Wet /Dry Cycles

Uniform drying and air pruning of roots 
Instead of the usual circling and constrictive roots at the bottom of the root system, customers experienced thousands of healthy root tips growing out or down through the Ellepot paper  – even after months of being in the same Air Tray®.
"This is due to the high air pruning of the roots. The tray promotes air circulation and drainage, which enhances root architecture,"adds Lars Peter Jensen from Blackmore.
"This system gives propagators the opportunity to the create optimal microclimate conditions for smarter production."
As well as a reduction in root defects, nursery growers have also reported that cases of transplant shock – in dormant and 'green' planting periods – are virtually eliminated. With mortality rates reduced and yields on the rise, the successful trials of the Air Trays® have shown that the new propagation trays can help customers grow smarter too.